Now Hiring!!

Please See Employment Section Of Our Website For Further Details.
Traffic Amnesty Program

Beginning October 1, 2015, the 18-month traffic violator amnesty program authorizes individuals with past-due court-ordered debt related to traffic infractions and owed prior to January 1, 2013, to have their outstanding delinquent debt reduced by either 50 or 80 percent when they meet specified eligibility criteria.
Superior Court's proposed budget plan for fiscal year 2015-2016
CLICK HERE TO PAY YOUR FINE IN FULL ONLINE
To Pay Your Fine In Full By Phone Please Call (831) 636-4057
**If paying using the automated system either online or by phone, you must pay your fine in FULL. Partial payments need to be made by mail or in person.
Locations & Contact Information
Clerks hours of operation:
Counter and phones: 8:00am-4:00pm Monday through Friday except Holidays
Superior Court of California, San Benito County
450 Fourth Street
Hollister, CA 95023
(831) 636-4057
Honorable Harry J. Tobias, Presiding Judge
Honorable Steven R. Sanders, Judge
Honorable Diana Baker, Commissioner
Gil Solorio, Court Executive Officer
Nancy Iler, Court Manager
Quick Links
Our Mission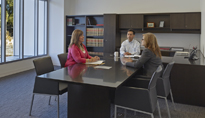 To provide access, justice and resolution to all with equality, impartiality, efficiency and respect..