Tentative Rulings:
_________________________
**If paying using the automated system either online or by phone, you must pay your fine in FULL. Partial payments need to be made by mail or in person.
Locations & Contact Information
Clerks hours of operation:
Counter and phones: 8:00am-4:00pm Monday through Friday except Holidays
Superior Court of California, San Benito County
450 Fourth Street
Hollister, CA 95023
(831) 636-4057
Honorable Omar Rodriguez, Presiding Judge
Honorable Patrick K Palacios, Commissioner
Gil Solorio, Court Executive Officer
Nancy Iler, Court Manager
Our Mission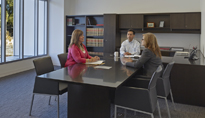 To provide access, justice and resolution to all with equality, impartiality, efficiency and respect..