;


Please See Employment Section Of Our Website For Further Details.
Superior Court's Allocation FY2017-2018: Pursuant to California Rule of Court 10.620(f), the Superior Court of San Benito County provides this notice of receipt of the annual trial court budget allocation for FY2017-2018 from the Judicial Council of California. In addition, to comply with the above mentioned Rule of Court, the Superior Court of San Benito County is posting a summary of allocations as provided by the Judicial Council of California.
CLICK HERE TO PAY YOUR FINE IN FULL ONLINE
To Pay Your Fine In Full By Phone Please Call (831) 636-4057
**If paying using the automated system either online or by phone, you must pay your fine in FULL. Partial payments need to be made by mail or in person.
Locations & Contact Information
Clerks hours of operation:
Counter and phones: 8:00am-4:00pm Monday through Friday except Holidays
Superior Court of California, San Benito County
450 Fourth Street
Hollister, CA 95023
(831) 636-4057
Honorable Steven R. Sanders, Presiding Judge
Honorable Omar Rodriguez, Judge
Honorable Diana Baker, Commissioner
Gil Solorio, Court Executive Officer
Nancy Iler, Court Manager
Quick Links
Our Mission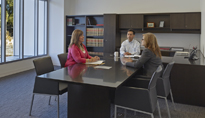 To provide access, justice and resolution to all with equality, impartiality, efficiency and respect..